Art of City Building 2018 Recap Video :
AoCB 2018 Conference share their thoughts on the conference:
In a rapidly transforming world with daunting issues such as increasing inequality and climate change, Indy Johar - architect and co-founder of Architecture 00 - encourages us to ask deeper questions.
Cities have the opportunity to become epicentres of social innovation and change, but what does this look like on the ground? Jayne Engle shares citizen and government led projects around the world that demonstrate how effective change is being created through collaboration.
'When you focus on a place, you do everything differently'. For Ethan Kent, the act of placemaking has impacts far beyond our public spaces; in fact, it poses radical new models for governance, resilience, equity, and design.
Economics can reveal a lot about cities. Joe Minicozzi demonstrates how urban areas and dense planning are critical - to a city's bottom line. They reveal how our tax codes and regulations incentivize bad planning and architecture: "Don't hate the player, hate the game".
Session 1:
Art of City Building
Panel Discussion
The Cogswell Interchange in Halifax is widely regarded as a mistake, a relic of misguided transportation planning policies. However, the Cogswell Interchange may be a blemish on the city of Halifax, it might also be its greatest opportunity.
Hans Karssenberg, Amsterdam
"There's this idea of birds-eye-view design, this is typically how designers will share their designs to you. But we're not birds". Hans goes on to explain how the key to good design is found at the human scale, designing for our physical senses and our psychological needs as human beings on the ground.
"Our lives aren't only about getting from A to B". Drawing from several prominent examples of Mandaworks' work, he shares principles for designing with context and the human experience.
Julia Day is an associate at Gehl New York, a firm founded under architect and planner Jan Gehl, whose research and literature on designing for human scale in cities has had far reaching influences on architecture and planning.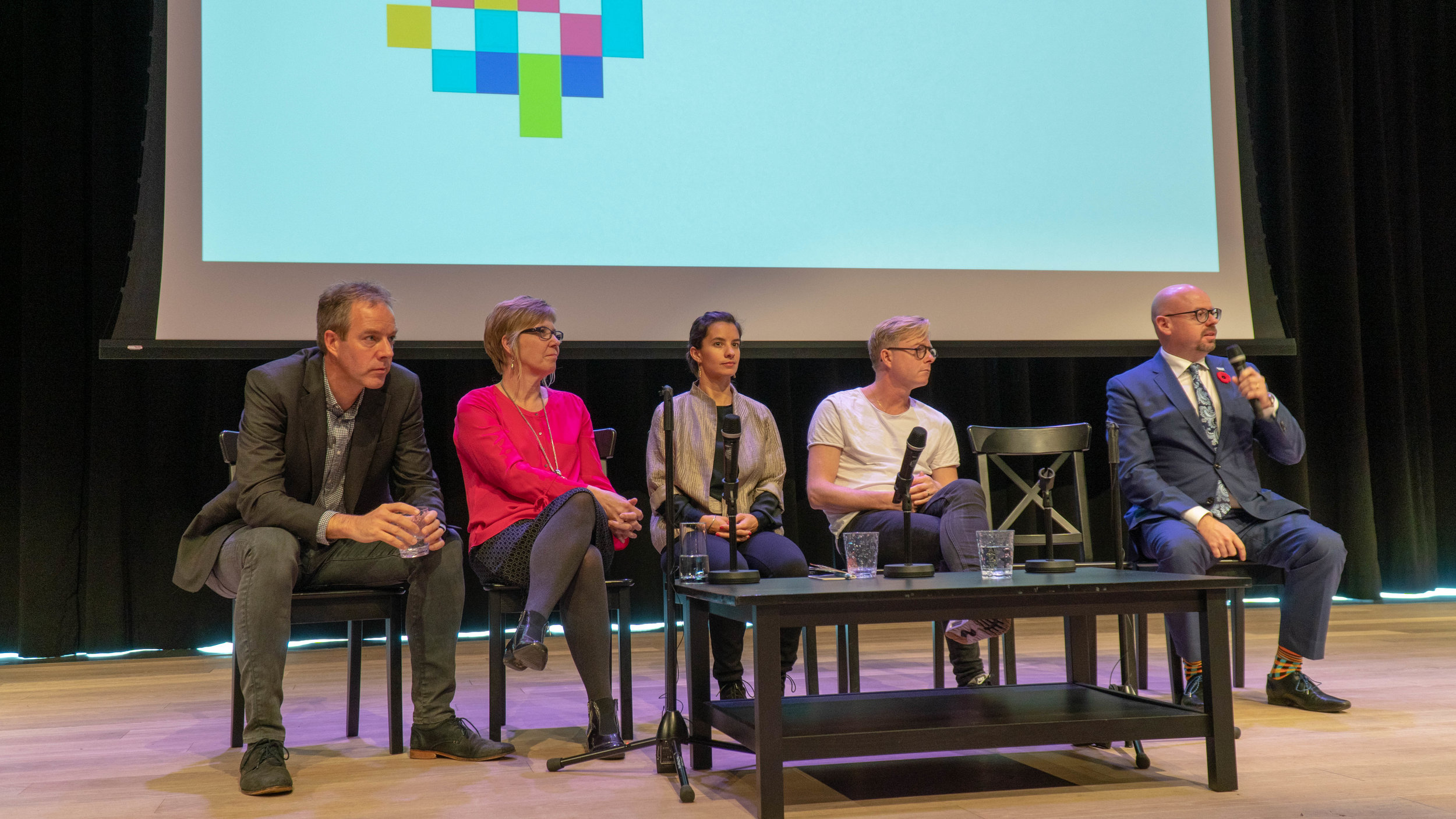 Session 2:
Places for People
Panel Discussion
Density on its own is simply scratching the surface of what's possible, for Matt Hebb, the connectivity between organizations and a shared sense of purpose is what ultimately unlocks a city's full potential.
At the Art of City Building conference, Jesse describes how Volta Labs, currently expanding its space to occupy the ground level of the Maritime Centre, is leading the way to create an innovation hub in the city of Halifax
Matthew Claudel, Cambridge
Matthew Claudel identifies a troubling trend; while technological innovation is fast changing our cities and society, it has a tendency to exacerbate inequalities and be at odds with the objectives of civic institutions.
The idea of technology and planning intertwining can be exciting. Bianca Wylie asks us to maintain a healthy dose of skepticism, ask questions and always advocate for democratic processes.
Charlot Schans, Amsterdam
Charlot Schans asks us to widen our definition of innovation beyond tech hubs and start-ups. Drawing from several examples in her hometown of Amsterdam, she shares how innovation can take many forms - artists spaces, activism, heritage restoration, and more.
Session 3:
Future Cities Panel Discussion
Session 4:
Our Place in the City
Closing discussions with speakers and the audience.